Door Jam Cuffs [Toy Review]
Monday
Jul 7,2008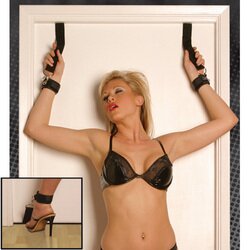 These Door Jam Cuffs don't look like much out of the package but turned out to be surprisingly functional. They work quite simply without any fussy installation or need for hardware.
A serious bondage enthusiast would probably have more severe and effective restraints in their repertoire but if you are interested in getting started, these cuffs (or something like Under the Bed Restraints) are the perfect accessory. You won't be able to tie up a fugitive with these but since your participant will be willing and ready (despite their playful protests) no need to worry about that, right?
The cuffs are made of a soft material and fasten with simple Velcro closures. While they aren't meant to hold up your body weight, they will take on a fair amount of it if your knees get a bit weak. They can be used on either wrists or ankles – in fact, using two sets at once isn't the worst idea!
One drawback of these that I noticed right away was that the way they hang over the door jam doesn't actually do anything to stop the wearer from slipping their wrists toward each other. In addition to the fact that they are Velcro, this makes them exceedingly simple to get out of.
However, this criticism is only leveled in comparison to more serious bondage implements. These Door Jam Cuffs definitely fall in the very playful category and will function effectively, dare I even say joyously, for a variety of exploits you might think of. Mine are staying right in their place over the bedroom door for any impromptu play that I come up with.