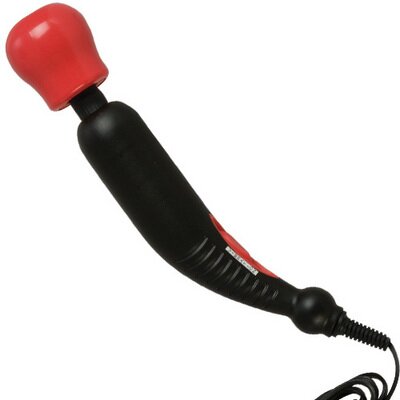 Take note! You can get a 10% discount on your order at Vibe Review if you shop through this link!
I haven't played with many massagers before but word on the street is that the Miracle Massager is the toy to beat.
First off, aesthetics. I'm not the biggest fan of the color scheme; red and black seems a bit crass (well lots of things seem crass when paired with black, I'm not sure why). Of course colors seem irrelevant when you take into consideration the fact that this is an item that will be buried between my legs. If I've played my cards right and have a friend along to help, I can reliably close my eyes and pay little attention to anything except the vibrations. And oh does this vibrate.
Now, I'm a fan of subtle vibrations. This is subtle like a rock between the eyes. For me, something like the Miracle Massager feels like cheating because I can get off in just a few minutes. You might be thinking that isn't such a bad thing. You are probably right.
Plus, there are a lot of good other good uses for this toy. The curved handle actually makes it good as a back massager (stop snickering, I'm serious!) The excellent vibrations are strong enough to conduct vibrations through other materials (I'm thinking crotch rope). Also, it plugs into your wall instead of eating up batteries. I wish the cord was a bit longer but I have no idea how it stacks up against other massagers on the market.

I did not try the Miracle Massager all by itself, though. I also got a chance to test it out with the Miracle Massager Attachment that is sold separately. My feelings about this attachment are somewhat conflicted. On the one hand, I experienced amazing orgasms with it. The shape of the attachment is perfect for stimulating my clit and my g-spot at the same time. Without needing to do any thrusting I was able to get off in a few minutes.
With an endorsement like that, what could possible be wrong, right? Well, first of all, I'm not sure that the attachment was actually designed for the Miracle Massager. It fits on and stays but is sort of wobbly. I tried it out on a friend's Hitachi Magic Wand and it fit like a glove. I wonder if it was designed for that toy originally? This isn't a very serious problem as I haven't had any issue with the attachment actually falling off.
My biggest complaint is that it is made out of jelly rubber PVC and is not pthalate-free. For this reason it has that tell-tale chemically smell. While I usually opt for phlalate-free toys, the ones I have always get covered on condoms. There is no conclusive information about whether these materials are harmful but I prefer to play it safe.
So, this presents a dilemma. Indeed, the attachment is shaped remarkably well and really increases the utility of the Miracle Massager. I also think that the price for the attachment is quite modest. I desperately wish it was made out of another material but nothing is completely perfect. I still plan to play with it on a regular basis because it works so well.
Take note! You can get a 10% discount on your order at Vibe Review if you shop through this link!