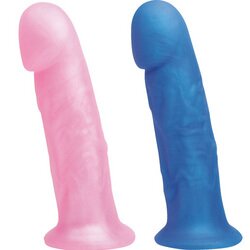 Goliath is an intimidating name for a dildo isn't it? I guess "Perfect Silicone Cock That Fills You Up Just Right" was too long to fit on the package. But, that is how I feel about the Goliath. Is it big? Yes. I was actually a bit alarmed when I first saw it.
I held it up to Jay and asked, "Is this bigger than Ian?"
He raised his eyebrows and was clearly scrutinizing my ability to judge cock size. Then he snatched if from my hands and slid the Goliath into his mouth.
"It is a bit longer," he declared, "but not as thick as Ian."
I let out a sigh of relief and grabbed the lube.
The Goliath is the first realistic dildo that I have ever owned. Despite being a gorgeous, deep shade of iridescent blue silicone, it has veins and a head like a real penis. It is quite firm, when I hold it in my hand I have this urge to squeeze it really hard. And I do. And it doesn't yield very much at all.
Do I need to mention again that being made of silicone is really important and makes the Goliath a brilliant toy that will last you for many years? That means that it is sturdy, allergy-free, and can be sterilized in boiling water. It is made by Tantus who are my favorite manufacturers of pure silicone toys.
But, there are some other good details. The Goliath is harness compatible, I can't wait to try it out in my Corsette. Perhaps with Hania? It also comes with a bullet vibe that slips inside a small opening in the bottom. Silicone conducts vibrations brilliantly and the vibe is removable so that you can still clean the toy properly.
It is easy to get jaded on dildos and think that one is sort of the same as the one next to it. But the Goliath stands out among them. The shape is delicious and satisfying and the textures and materials feel like heaven.
Thanks so much to the folks at VibeReview for sending me great toys. You can get 10% off your order between now and November 4th with the Obama for President coupon.